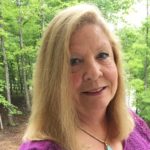 Pamela enjoys working with couples, families, and individuals. She helps them gain insight, and find practical solutions and strategies to difficult issues that come up in life. She treats all forms of trauma from serving in the military, natural disasters, or sexual abuse.  Her clients overcome the effects of depression, divorce, job and career and life changes, acculturation, illness, aging, and grief. She uses an integrated approach, drawing from a variety of therapies including Family Systems, CBT, solution-focused therapy, psychodynamic, existential, gestalt, narrative, and attachment-based treatments.
Professional Experience
Pamela is a Marriage and Family Therapist who recently moved to Fredericksburg. She pursued her graduate work at California State University Northridge where she received her Master's Degree in Counseling with a specialization in Marriage & Family Therapy. She completed her Virginia MFT license requirements under the direct supervision of Dr. Dave Jenkins. He handpicked her because of her experience, dedication, and compassion for helping clients progress and heal.
Pamela is also a Certified Hypnotherapist trained by the Hypnosis Motivational Institute in Tarzana, California with more than 14 years of experience. She uses hypnotherapy and mindfulness to help clients find their strengths and overcome addictions and other challenges. Pamela assists clients to find meaning and purpose in their lives. She guides them to improve the quality of their lives and realize goals and dreams so they can experience more joy, happiness, and success.
Personal Mission
Pamela believes that life is a journey. It continues to unfold with new things to learn and experience. Therapy is one of the most helpful tools to use along the way.
More About Pamela
Pamela has been married for over thirty years and believes that learning how to communicate and negotiate effectively with each other is vital to getting your needs met, and experience more joy and happiness with your partner, family, and other people. She found that in a successful relationship there needs to be, give and take, friendship, enjoyment in doing activities together, shared similar interests, values and beliefs, as well as having a harmonious and enjoyable sex life. Moreover, Pamela helps couples reconnect with themselves and each other.